3-PACK Spirulina 100% - SWANSON 500 mg 540 Tablets Blue Green Algae SUPERFOOD
Swanson 100% Certified USDA Spirulina 500 mg  
3-PACK SPECIAL
180 X 3 OR 540 Tablets Blue Green Algae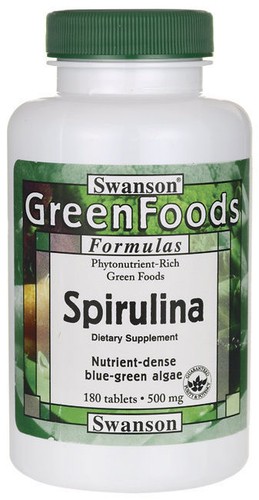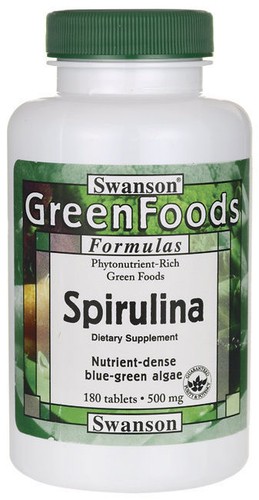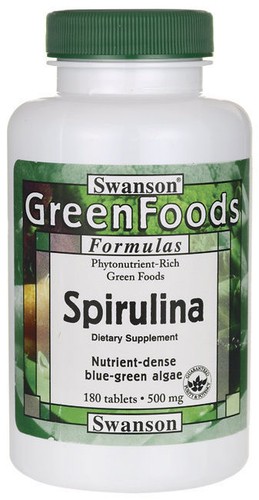 MOST NUTRIENT DENSE OF ALL GREEN FOODS, FULL OF PROTEIN!
A WONDERFUL SUPPLEMENT THAT MAKES A WORLD OF DIFFERENCE!
This blue-green algae is a tremendous natural whole food, featuring the antioxidant support of beta-carotene and the joint-health-promoting power of gamma linolenic acid. Spirulina also has proteins, amino acids, minerals, B vitamins, and cleansing chlorophyll.
A natural whole food algae
MOST NUTRIENT DENSE OF ALL GREEN FOODS, FULL OF PROTEIN!
Delivers powerful antioxidant support, potent joint health and more
Features gamma linolenic acid, proteins, amino acids, minerals, B vitamins and chlorophyll
SWANSON STANDARD OF EXCELLENCE, 
MFG DATING
WE DO NOT SELL OLD DUSTY PRODUCTS. ALL INVENTORY IS ORDERED DIRECT FROM THE FACTORY AND EXTREMELY FRESH, TO ORDER!
MFG DATE: 02/2017
TRANSLATES INTO AN EXP DATE: 02/2019
Swanson Vitamins stamps all of their products with and MFG Date, or Manufacture Date (Born-on Date). This translates into an EXP Date of 2019. This is a USP (Government rating for Quality Assurance) Standard for providing excellence in quality/freshness for vitamins and supplements. Anything you take into your body must be a top of the line product. WE GUARANTEE IT!
Spirulina is a single-cell, microscopic blue-green algae that is one of the earliest forms of life on the planet, according to the Spirulina World website. Spirulina is considered a "superfood" due to its vast array of nutrients, including protein, essential fatty acids, vitamins B, C, E and chlorophyll. Spirulina is typically consumed in the modern diet in capsule, tablet, or powdered form, and may be used as part of a weight loss program. Take spirulina according to the manufacturer's directions, and consult your physician before including spirulina in your weight loss efforts.
Often, when you feel hungry your body is creating the effect because it is looking to fill its own need for nutrients. When you feed yourself poor-quality foods regularly, your brain will trigger your appetite in an effort to find what it wants, according to the Spirulina World website. Spirulina will increase the concentration of nutrients in your body and may reduce hunger and cravings in the process.
Taking spirulina regularly is ideal for building muscle or low-carb diets due to its high-protein content. Spirulina contains up to 70 percent protein depending on growing conditions, as well as all eight essential amino acids. The digestive absorption of the protein in spirulina is four times greater than that of beef, according to ChlorellaFactor.com. Easily digestible protein in conjunction with a sound exercise plan will help build lean muscle mass, which will help your body burn more calories throughout the day.
Spirulina supplies only 3.9 calories for each gram of protein, as compared to beef, which supplies 65 calories for each gram of protein, according to NaturalWays.com. A standard 500 mg tablet of spirulina only has two calories. Regular consumption of spirulina will provide you with a good portion of your daily nutritional needs, without any caloric consequences.
Spirulina is a rich source of Omega-3 fatty acids, and GLA, or gamma linolenic acid, says ChlorellaFactor.com. The greatest concentration of GLA found anywhere is in breast milk, as it used for the brain development of the growing baby. GLA can also help regulate your blood sugar and control insulin levels, which will in turn minimize carbohydrate binging and help you lose weight.
Supplement Facts
Serving Size 2 Tablets
Servings Per Container 90
 
Amount Per Serving
% Daily Value
Spirulina (Arthrospira platensis)

(microalgae)

1 gram
*
*Daily Value not established.
Other ingredients: Calcium carbonate, microcrystalline cellulose (plant fiber), stearic acid (vegetable source), croscarmellose sodium, silica.
Suggested Use: As a dietary supplement, take two tablets three times per day with water, preferably on an empty stomach.
---
More from this collection