2 PACK Green Lipped Mussel 500mg Omega 3 Greenshell Mussel New Zealand
2 X 60 Green Lipped Mussel 500mg Joint Pain Arthritis Coast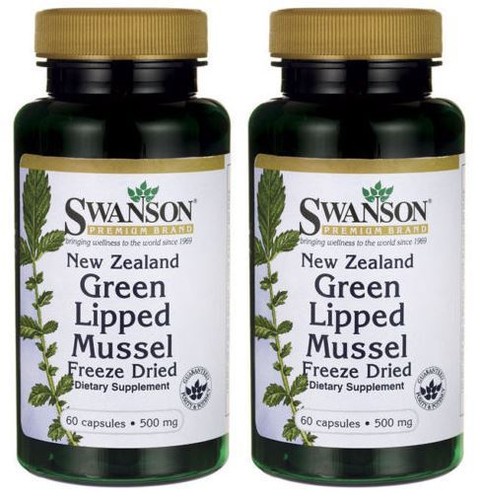 HIGHLY PUBLISHED ON TV/RADIO/INTERNET FOR ITS STRENGTH!
SWANSON STANDARD OF EXCELLENCE, 
MFG DATING
WE DO NOT SELL OLD DUSTY PRODUCTS. ALL INVENTORY IS ORDERED DIRECT FROM THE FACTORY AND EXTREMELY FRESH, TO ORDER!
MFG DATE: 11/2016
TRANSLATES INTO AN EXP DATE: 11/2018
Swanson Vitamins stamps all of their products with and MFG Date, or Manufacture Date (Born-on Date). This translates into an EXP Date of 2018. This is a USP (Government rating for Quality Assurance) Standard for providing excellence in quality/freshness for vitamins and supplements. Anything you take into your body must be a top of the line product. WE GUARANTEE IT!
Green Lipped Mussels Benefits
The green lipped mussel(Perna canaliculus) also called greenshell mussel, hails from New Zealand and is speculated to be a treatment option for a variety of different health issues including osteoarthritis, rheumatoid arthritis, joint pain caused by cancer treatments, asthma and daytime wheezing. The oil extracted from these miracle muscles acts as an anti-inflammatory agent that is totally natural and very powerful.
Active Ingredients
The oil extracted from green lipped mussels is rich in Omega 3s, an extremely powerful health supplement. The nutrients of these mussels can also be extracted in a powder form which is equally as effective at treating inflammatory illnesses and joint pain, with many other accompanying health benefits.
Some of the most powerfully marketed forms of green lipped mussel oil contain only three ingredients, those being the green lipped mussel oil as well as grape seed extract powder and kiwi fruit seed oil. The oil may be combined with a variety of omega-3 oils including linseed oil, hemp seed oil, sesame oil, sunflower oil, evening primrose oil, soybean oil, walnuts and canola seeds. Other marine sources of omega-3 oils are often paired with the green lipped mussel oil, such as fish oil, krill oil, cod liver oil and marine algae. These are all effective anti inflammatory treatments as well which boost the efficacy of the mussel oil itself. There is actually no need to pair green lipped muscle oil or powder with any other supplement, because it is one of the most effective sources of nutrition and supplementary vitamins available. On its own, it can do the same amount of work of an average multivitamin, if not more.
Anti-inflammatory Pain Relief
As the body metabolizes the natural omega-3s found in green lipped mussel oil, they go to work on restoring and soothing inflamed joints, muscles and tissues. This can cause a great deal of pain relief for people suffering from rheumatoid arthritis, osteoarthritis, fibromyalgia, lupus and other illnesses which cause severe joint pain. It is also of great benefit to people who suffer from asthma, chronic bronchitis or respiratory issues, as it helps lung tissue to regain strength and restore normal breathing ability.
Habitat in New Zealand
Green lipped mussels have often been hailed as a miracle food because no matter how you consume them, be it as a delicious seafood itself or as oil or powder, their health benefits are absolutely amazing. The restorative powers found in the omega 3s of these mussels have restorative abilities that have created a high demand for the seafood, powder, oil and extract. One reason that these mussels are in such high demand is that they only occur naturally on the New Zealand coast. The green lipped mussels have been cultivated off the New Zealand coast since the 1970s, and are currently experiencing annual growth in a median range of 18%, a huge expansion per year, based on the demand for the seafood and its extracts. Green lipped mussels are considered to be one of the top two ecologically sound types of seafood worldwide, something which may contribute to their beneficial health capabilities.
Green lipped mussel oil is typically produced in a supplement form within an easy to swallow capsule. It is sold in bottles in most health food stores. Selling the oil in the capsule is the most effective way to ship it while preserving its natural healthy qualities and also making the oil palatable to the person who is taking it. Green lipped mussel powder is, like its oil counterpart, sold in capsule form for the preservation of the integrity of the product and to maintain a taste that is acceptable to the purchaser. The oil, powder and the mussels themselves all contain a variety of proteins, minerals, vitamins, omega 3s, healthy enzymes, polypeptides, chondroitin sulphated, glycosaminoglycans, polysaccharides and glycoproteins. These supplementary nutrients aid in the preservation of mobility and joint health, functional cartilage, a healthy heart, glowing skin and overall health concerns. Because of the wide range of issues that can be treated with green lipped mussel oils and powders, it is one of the best selling supplements on the market.
As scientists continue to discover unique nutritional benefits of marine products, one truly sustainable whole food supplement is really making waves. Green Lipped Mussels, ecologically grown and harvested off the coast of New Zealand, are quickly gaining popularity around the world. Unlike refined fish oils, Green Lipped Mussel is a whole food consisting of protein, carbohydrates, natural chondroitin sulfate, minerals and beneficial lipids. Ours is freeze-dried on site for guaranteed freshness.
Supplement Facts
Serving Size 1 Capsule
 
Amount Per Serving
% Daily Value
Freeze-Dried Green Lipped Mussel

(Perna canaliculus)

500 mg
*
*Daily Value not established.
Other ingredients: Gelatin, microcrystalline cellulose (plant fiber), may contain one or both of the following: magnesium stearate, silica.
Suggested Use: As a dietary supplement, take one capsule per day with water.
WARNING: Do not take this product if you are allergic to shellfish or if you are pregnant or nursing.
Paypal
Shipping Terms
We ship after payment for quick delivery!
---
More from this collection