2 BOTTLE COMBO: 60 CAPS Garcinia Cambogia 90 CAPS Konjac (Lipozene & Carb Block
90 Caps 100% Glucomannan Konjac Root SAME as LIPOZENE & GARCINIA CAMBOGIA Combo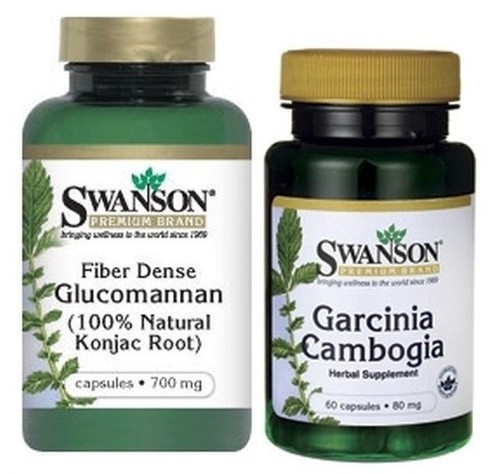 FRESHEST AVAILABLE, ONLY DAYS FROM MANUFACTURER!
SWANSON STANDARD OF EXCELLENCE, 
MFG DATING
WE DO NOT SELL OLD DUSTY PRODUCTS. ALL INVENTORY IS ORDERED DIRECT FROM THE FACTORY AND EXTREMELY FRESH, TO ORDER!
MFG DATE: 01/2017
TRANSLATES INTO AN EXP DATE: 01/2019
Swanson Vitamins stamps all of their products with and MFG Date, or Manufacture Date (Born-on Date). This translates into an EXP Date of 2019. This is a USP (Government rating for Quality Assurance) Standard for providing excellence in quality/freshness for vitamins and supplements. Anything you take into your body must be a top of the line product. WE GUARANTEE IT!
FAT BLOCKER, CARB BLOCKER & APPETITE SUPPRESSANT - KEEPS YOU FULL, LONGER!!
The equivalant(Same Active Ingredient) as Lipozene
700MG 
90 POWERFUL CAPSULES 
Lose weight by controlling appetite and discarding of some fats you digest!
QUICK USPS FIRST CLASS SHIPPING! TRACKING PROVIDED AFTER PAYMENT.
Glucomannan is specifically designed to be used with your reduced calorie diet and daily exercise plan and is a popular addition to all types of nutritional programs.
Glucomannan helps maintain cholesterol levels already within a normal range.
No Artificial Color, Flavor or Sweetener, No Preservatives, No Sugar, No Starch, No Milk, No Lactose, No Soy, No Gluten, No Wheat, No Yeast, No Fish. Sodium Free.
Supplement Facts
Serving Size 1 Capsule

 
Amount Per Serving
% Daily Value
Glucomannan

(Amorphophallus konjac) (tubers)

700 mg
*

*Daily Value not established.

Other ingredients: Gelatin, rice flour, may contain one or more of the following: microcrystalline cellulose (plant fiber), magnesium stearate, silica.

Suggested Use: As a dietary supplement, take one capsule with a full glass of water before each meal. For maximum benefit, take up to two capsules before each meal.
Garcinia Cambogia
80 MG 
60 POWERFUL CAPSULES 
Full spectrum garcinia cambogia from Swanson Premium Brands

Traditionally used to support weight management

A 5:1 extract of this traditional Indian herb
Garcinia cambogia contains hydroxycitric acid (HCA), which can help support a healthy weight. Garcinia is a plant native to Asia, Australia, southern Africa and Polynesia. Its fruits have been eaten by local populations for centuries. It has also been used to give flavor to culinary dishes. Each capsule delivers 80 mg garcinia cambogia.
Serving Size 1 Capsule
|   | Amount Per Serving | % Daily Value |
| --- | --- | --- |
| Garcinia cambogia 5:1 extract (fruit) | 80 mg | * |
*Daily Value not established.
Other ingredients: Rice flour, gelatin, may contain one or both of the following: magnesium stearate, silica.
Suggested Use: As a dietary supplement, take one capsule one to two times per day with water.
WARNING: Do not take this product if you are pregnant or nursing.
You may also be interested in.....
Froo Frooition www.froo.com | selling manager applications, eBay design, eBay store design, eBay shop design, eBay template design, eBay listing design
Thank you for being a part of our family! We have the best customers in the world!
---
On Jul-23-16 at 13:46:36 PDT, seller added the following information:
---
More from this collection