100 Capsules - Swanson Triple Magnesium Complex 400 mg
100 Capsules - Swanson Triple Magnesium Complex 400 mg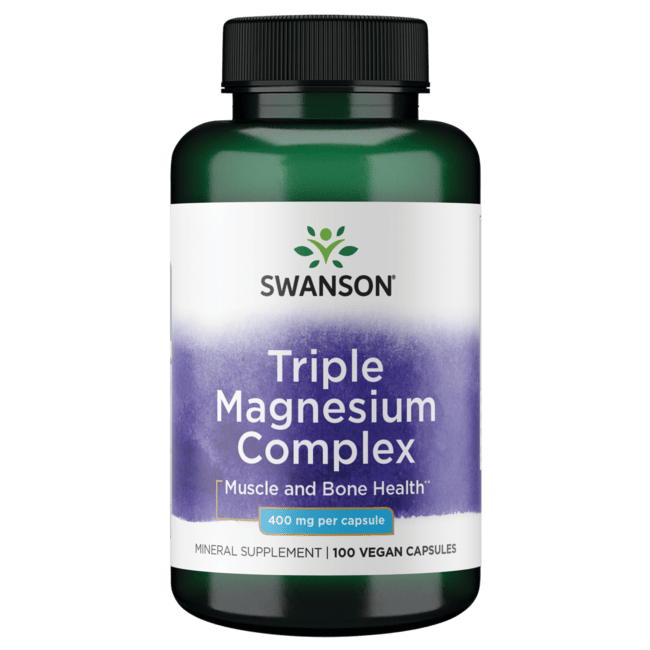 Obtain a full day's supply of the essential mineral magnesium with Swanson Triple Magnesium Complex! This unique formula features three distinct sources of magnesium to promote optimum bioavailability. Magnesium is necessary for strong muscles and bones, cardiovascular health, and nervous system function. Each capsule delivers 400 mg of magnesium.
FAQs
Q:
How much elemental magnesium am I getting in one capsule?
A:
There are 400 mg of elemental magnesium in each capsule.
Q:
Can I take too much magnesium?
A:
Possibly, and there are recommended intakes for magnesium. One indication that you may want to take less magnesium is if you start having loose stool or diarrhea.
Promotes strong muscles and bones, cardiovascular health and nervous system function

Features magnesium oxide, citrate and aspartate for maximum bioavailability

Delivers a full day's supply of this vital mineral
SWANSON STANDARD OF EXCELLENCE, 
MFG DATING
WE DO NOT SELL OLD DUSTY PRODUCTS. ALL INVENTORY IS ORDERED DIRECT FROM THE FACTORY AND EXTREMELY FRESH, TO ORDER!
MFG DATE: 01/2016
TRANSLATES INTO AN EXP DATE: 01/2018
Swanson Vitamins stamps all of their products with and MFG Date, or Manufacture Date (Born-on Date). This translates into an EXP Date of 2017. This is a USP (Government rating for Quality Assurance) Standard for providing excellence in quality/freshness for vitamins and supplements. Anything you take into your body must be a top of the line product. WE GUARANTEE IT!
Product Label:
Triple Magnesium Complex
Supplement Facts
Serving Size 1 Capsule
 
Amount Per Serving
% Daily Value
Magnesium

(from magnesium oxide, magnesium citrate, magnesium aspartate)

400 mg
100%
Other ingredients: Gelatin, magnesium stearate.
Suggested Use: As a dietary supplement, take one capsule per day with water.
---
On Jul-20-16 at 13:46:14 PDT, seller added the following information:
---
More from this collection