#1 SWANSON Turmeric +AND+ BioPerine® | Piperine Black Pepper | 100 +120 Capsules
#1 SWANSON Turmeric +AND+ BioPerine® | Piperine Black Pepper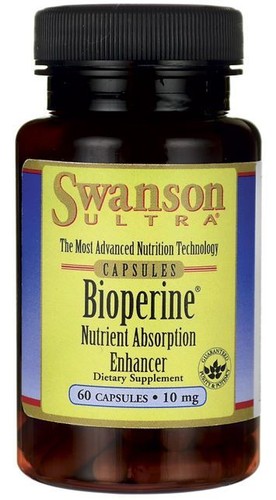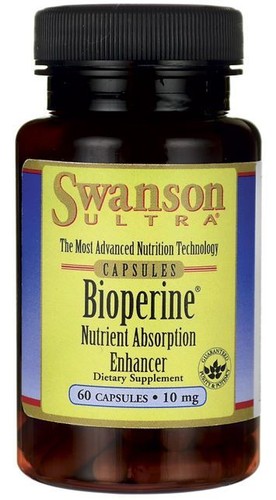 100 Turmeric + 120 Bioperine Capsules
NOTE: The Bioperine bottles are smaller than the Turmeric bottle
SWANSON STANDARD OF EXCELLENCE, 
MFG DATING
WE DO NOT SELL OLD DUSTY PRODUCTS. ALL INVENTORY IS ORDERED DIRECT FROM THE FACTORY AND EXTREMELY FRESH, TO ORDER!
MFG DATE: 01/2016
TRANSLATES INTO AN EXP DATE: 01/2018
TURMERIC
Swanson Turmeric brings protection to your liver and digestive system! While chefs may be most familiar with turmeric as a spice used in curries, herbalists know it as an outstanding natural tonic for the liver and gastrointestinal system. The key to turmeric's benefits appear to be its high concentration of natural compounds known as curcuminoids, which possess powerful antioxidant capabilities.
Natural tonic for the liver and gastrointestinal system

Features a high concentration of powerful antioxidant curcuminoids

Free radical protection for digestive system health
FAQs
Q:
How much curcumin is present in this product?
A:
With full-spectrum herbs, we do not specify a particular amount of curcumin or assay for it. Curcumin will be present as a natural component of turmeric, but concentration will vary in each batch with variations in growing conditions, time of harvest and other similar issues.
Q:
I've heard that turmeric is not easily absorbed in the intestine. Is there any way I can improve absorption for greater benefit?
A:
Absorption of turmeric can be improved by taking it with Bioperine, a black pepper complex, which enhances nutrient absorption.
Q:
My digestive system is very sensitive. Is there any form of turmeric that would be more easily tolerated in the digestive system?
A:
Try Kyoto Fermented Turmeric.
Product Label:
Turmeric
Supplement Facts
Serving Size 2 Capsules
Servings Per Container 50
 
Amount Per Serving
% Daily Value
Turmeric (Curcuma longa)

(rhizome)

1.44 grams
*
*Daily Value not established.
Other ingredients: Gelatin, magnesium stearate.
Suggested Use: As a dietary supplement, take two capsules once per day with water.
WARNING: Do not take this product if you are pregnant or nursing. Consult your healthcare provider before use if you have or have had gallbladder problems. Discontinue use if you experience gastrointestinal discomfort.
BIOPERINE
Swanson Bioperine Nutrient Absorption Enhancer is the one supplement that makes all others work better. Bioperine, a standardized extract from black pepper (piper nigrum), is the only product from piperine to obtain a patented status for its ability to increase the bioavailability of nutritional compounds. It is also the only source from piperine to have undergone clinical studies in the U.S. to substantiate its safety and effectiveness. Animal lovers appreciate the fact that Bioperine can be used for pets, too!
Maximize the benefits of your entire supplement regimen

Dramatically enhance the absorption of whole food and dietary supplements

Patented and standardized extract of piperine from black pepper
Product Label:
Bioperine Nutrient Absorption Enhancer
Supplement Facts
Serving Size 1 Capsule
 
Amount Per Serving
% Daily Value
Bioperine® Nature's

Thermonutrient® (Piper nigrum, fruit) (standardized to min 95% piperine)

10 mg
*
*Daily Value not established.
Other ingredients: Microcrystalline cellulose (plant fiber), gelatin, may contain one or both of the following: magnesium stearate, silica.
Suggested Use: As a dietary supplement, take one capsule one to two times per day with water. Do not exceed recommended dosage.
Bioperine® is protected under one or more of the following U.S. patents: #5,536,506; #5,744,161; #5,861,415; #5,972,382 and #6,054,585.
Bioperine® and Nature's Thermonutrient® are registered trademarks of Sabinsa Corp.
---
On Jan-29-16 at 13:13:40 PST, seller added the following information:
---
More from this collection